Open the desired module
On the left-hand side of your screen you will find the various modules. Here you will find the module "Cooling" or "Stock". By clicking on it, you will get different options under this button.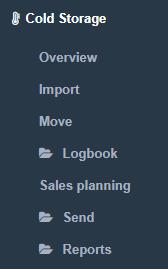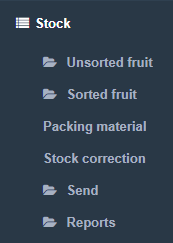 Open shipment
In the overview under "Cold storage" or "Stock", you will find the "Send" button. When you click on it, you will open the screen with an overview of all your shipments. By clicking here, you open an extra part with, under cold storage, "Cold storage overview" and under stock "Unsorted fruit" and "Sorted fruit", if you click on this, you open the screen with the overview of your shipments.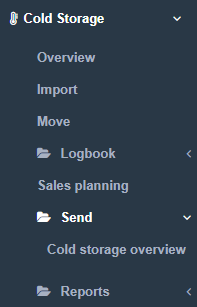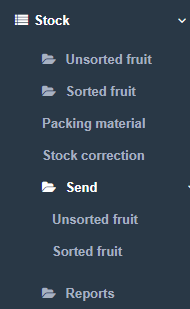 Open shipmentdetails
You can open the details of the shipments by clicking on "Details". This blue button is located to the right of the name of the empty item in the "Actions" column.
You will then see all the details of the shipment whose details you have opened.

Delete shipment
At the top right, you will find the red "Delete" button. If you click on it, a screen will open with the message "Delete?". If you are sure about the deletion press the red "Delete" button.